Sites@Duke: Customizing your site
Changing a site's title and tagline
A site administrator can change the title and tagline of a site. Click Settings, then General to reveal the General Settings options.
Change the blog title and/or tagline in the appropriate boxes and click update. Click on 'Visit Site' to see the change take effect: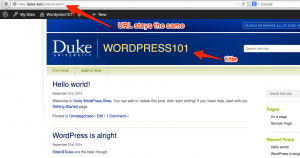 NOTE: Changing the title of your blog/site will not change the actual web address (the URL). This is set by the system based on your course information.
Changing a site's appearance
Themes
The appearance of WordPress sites can be changed quickly using by switching themes. Themes make up the graphic design and general layout for your WordPress site.
To change your site's theme, click Appearance > Themes, and choose to either Preview or Activate a new theme.
NOTE: Changing themes can also change the style of your text and the overall layout of your site. It's always a good idea to write down any custom features (custom CSS, widgets, plugin info) that you've added to your site before changing themes.
For more info:
Widgets and Sidebars
You may want to include a items in your sidebar which, depending on your theme, generally appears to the right or left of your main content. By adding different "widgets," you can add links, search boxes, navigational elements and more to your site.
Article Number:
KB0025635